Why fit Granning Springs?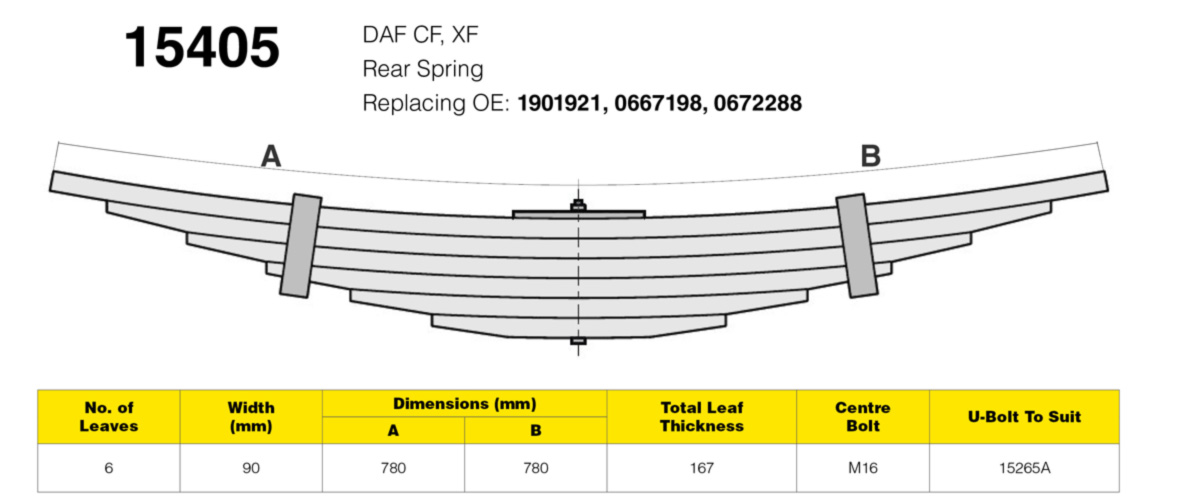 Granning 15405A springs are manufactured using high grade 50CrV4 spring steel which ensures optimal 'under load' performance & provides reduced 'in service' fatigue.
Granning enhanced design 15405A features an improved specification over alternative springs in the market – by slightly lengthening each leaf we have increased the volume of material at the suspension contact points improving durability and extending the working life of the spring.
Granning 15405A spring incorporates a 'Controlled Length' centre bolt which ensures full fitting compatibility with all DAF trunnion components, this means the Granning spring fits correctly first time every time.
Granning springs are manufactured in a State Of The Art production facility which is fully OEM accredited.
Granning springs are subject to rigorous proof testing after production and assembly ensuring that each spring is capable of a load capacity at least 110% of the original design parameter. The process also ensures no material defects have occurred during the manufacturing process allowing Granning springs to enjoy an industry leading 3 Year fully manufacturer backed warranty period.
To ensure the 3 year minimum service life and warranty can be upheld, Granning require new U-bolts / Straight bolts are fit when replacing any spring. U Bolt / Straight bolt threads are designed to stretch to achieve the correct pre load when 'torqued up' which allows the correct clamping force to be achieved – this improves the fatigue life of the bolts whilst under the high frequency load forces expelled on a vehicle suspension when in service. U Bolts / Straight bolts should not be used more than once as each time they are 'torqued up' the threads will continue to stretch meaning bolts used a second time will not achieve the same consistent clamping force as when originally fit leading to the potential failure of the spring & the invalidation of the warranty. To keep your full warranty cover intact Granning recommend new U bolts / Straight bolts should be used every time a spring is removed & replaced.
Granning supply a comprehensive range of high quality U-bolts / Straight bolts to suit all our spring applications.
Log in to Airsprings.com for product details and pricing